Address & Phone
Ph: (503) 538-7717
Email: [email protected]
Newberg Family Dental
615 E 2nd St.
Newberg, Oregon 97132
Dental Office Hours
Monday: CLOSED
Tuesday: 8am – 5pm
Wednesday: 8am – 4pm
Thursday: 8am – 5pm
Friday: 7 am – 4pm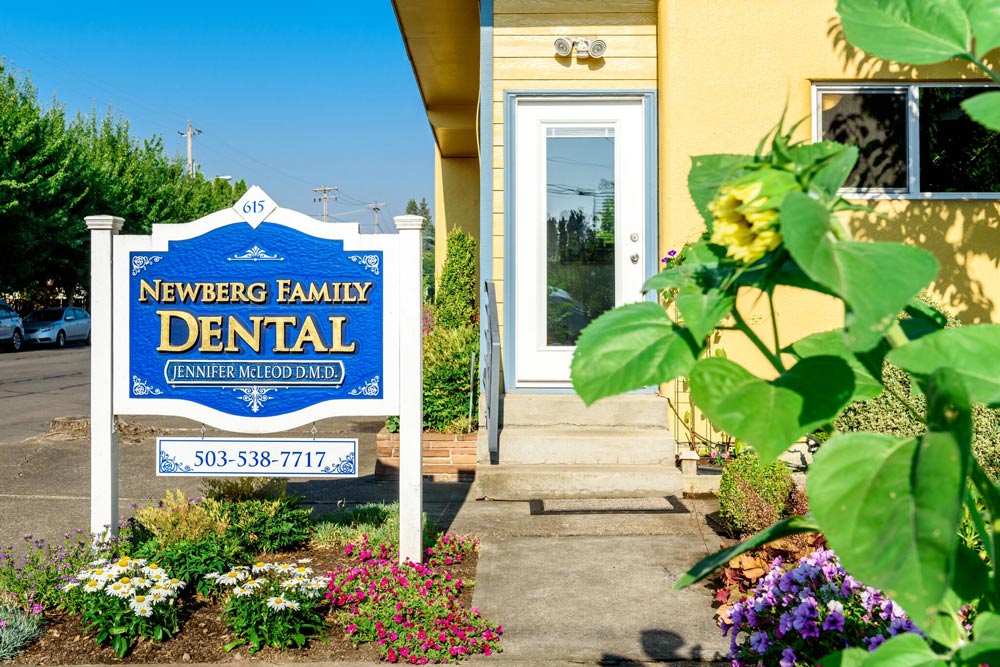 Take advantage of Our Special Offers
At Newberg Family Dental we understand that you might have some hesitation about going to the dentist. We are a family-owned dental practice and your comfort is our highest priority. We understand that selecting a general dentist is a big decision. That's why as a new patient, your first visit to our dentist office is on us!
*Regularly valued at $221, we'll give you a FREE comprehensive dental exam and x-rays with paid teeth cleaning. Some restrictions apply. Please see offer terms and conditions.
We want you to have an opportunity to visit our dental office, get to know Dr. Jennifer McLeod and our professional dental care team, and see for yourself why so many satisfied patients keep coming back! Your free initial examination and x-rays includes:
Digital Full Mouth X-Rays
Digital Bite Wing (check-up) X-ray
Oral Cancer Examination
Comprehensive Dental Examination
Personal consultation with Dr. Jennifer McLeod
Some restrictions apply. Please see offer terms and conditions.
The Optimal Dental Health Club is an annual prepaid savings program for routine dental care that offers patients with no insurance an additional discount on other dental treatments throughout the year. The program allow patients to prepay for their annual dental exams, x-rays and required teeth cleanings to receive up to 10% savings on other dental care treatments.
The Optimal Dental Health Club allows you to choose the type of dental care you desire without needing to get "approval" from a dental insurance provider. Every dollar you spend on dental care actually goes towards you receiving the type of care you deserve.
Patients enrolled in the club receive 10% off on dental and cosmetic treatments when they pay cash and 5% off on treatment when they pay with a debit or credit card. Start saving now and be one step closer to getting the smile you've always wanted.
Some restrictions apply. Please see offer terms and conditions.
Newberg Family Dental cares about your dental health, so that is why we are currently offering free fluoride treatment at your first appointment with our dental office. Fluoride treatments are important to your overall oral health, preventing tooth decay and the break down of enamel. 
Dr. McLeod and our team care about providing patients with the best preventative, restorative and cosmetic dental care treatments possible, so we want to do everything we can do make it easier and help with the cost for regular exams, x-rays and cleanings, since these services are the key to maintaining the best oral health care possible. 
Some restrictions apply. Please see offer terms and conditions.
At Newberg Family Dental, we understand that our patients live incredibly busy lives. Trying to find the time to fit a dental appointment into a schedule already packed with family, work, and school commitments can make getting the outstanding dental care you need feel like a real chore. To better meet the needs of her patients, Dr. McLeod offers morning appointments.
To help better maximize the time in your day, Newberg Family Dental offers morning appointment times so you can conveniently receive the dental care you require to enjoy a healthy, great looking smile for a lifetime. With appointment times starting at 7 am, your oral health needs can be taken care of before work, freeing up more valuable time later in the day. Contact our office today to schedule your morning appointment, and start your day with a reason to smile.
Schedule Your Appointment Today!
Schedule Your Appointment With Newberg Family Dental
Ready to get started? Just complete the form below and we'll contact you shortly to confirm your appointment.